Multivitamin containing dietary supplements with antioxidant polyphenols for children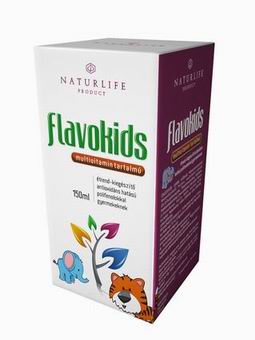 INFORMATION: The polyphenol and flavonoid components of the raw fruit found in this product have antioxidant properties and play an essential part in daily diet.
Our body does not produce these compounds. They can only be supplied with the intake of food or dietary supplements.
The daily intake of antioxidants is extremely important for keeping us healthy.
The fruit content of this product makes it a high source of polyphenol.
The product contains a so-called Naturlife 12 Vitamin mixture which was created by taking children's development level in mind and mixing the optimal combination and amount of vitamins.
INGREDIENTS: Grape juice, grape, black cherry, black currant-marrow, fructose, and multi-vitamin mixture:
(DL-α-Tocopherolacetat, Thiaminmononitrat, Riboflavin, Pyridoxinhydrochlorid, Cyanocobalamin, Folic Acid, Calcium-D-Pantothenat, Niacin, Biotin, Ascorbic Acid, ß-Carotin, Maltodextrin), raspberry, apple, plum paste.
DIRECTIONS: 5ml daily for ages 4-10, 10ml daily for ages above 10
Do not exceed the recommended daily intake!
Keep out of reach of children!
The dietary supplement is not a substitute for a balanced mixed diet and healthy lifestyle! Store refrigerated after opening!
Shake well before drinking!
PRESENTATION: 150 ml
OÉTI n. no.: 5528/2009
Nutritional value:

in 5 ml

in 10 ml
Recommended Intake
Energy
10,5 kJ/2,5 kcal
21 kJ/5 kcal
ages 4 – 65 ml
ages 7 – 105 ml
above age 1010 ml
Protein
24 mg
48 mg
Carbohydrate
530 mg
1,06 g
Fat
5 mg

10 mg

Vitamin E

5 mg

10 mg

83,2 %

71,4 %

100 %

Vitamin B1

0,35 m g

0,7 mg

39 %

29,1 %

50 %

Vitamin B2

0,4 m g

0,8 mg

40 %

28,6 %

50 %

Vitamin B6

0,5 m g

1 mg

38,5 %

31,2 %

55,5 %

Vitamin B12

0,25 μg

0,5 μg

25 %

25 %

50 %

Folic acid

50 μg

100 μg

66,6 %

50 %

66,6 %

Pantothenic acid

1,5 mg

3 mg

37,5 %

30 %

50 %

Nicotinamid

4,5 mg

9 mg

41 %

28,1 %

50 %

Biotin

37,5 μg

75 μg

25 %

25 %

50 %

Vitamin C

30,0 mg

60 mg

66,6 %

66,6 %

100 %

Beta-carotene

600 μg

1,2 mg

Total polyphenol
30 mg
60 mg