Dietary supplement with prebiotic properties. Contains vitamin B12 and folic acid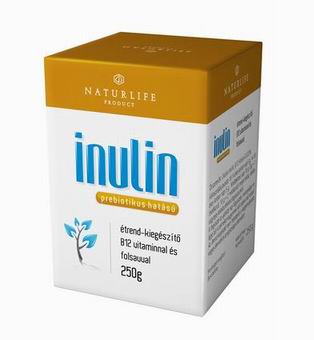 INFORMATION: As a prebiotic inulin helps maintain the balance of intestinal flora and the operation of bifidus bacteria in the colon.
Since it has a favorable impact on the health of protective gut bacteria, it contributes to the proper function of the body's defense system.
INGREDIENTS: Chicory inulin, vitamin B12, folic acid (0.025%).
DIRECTIONS: 5 grams a day at the age of 10-18, 10 grams a day (1 scoop = 5 g, 10 g = 2 scoops) dissolved in tea, coffee or milk drinks a day for adults.
Do not exceed the recommended daily intake!
Keep out of reach of children!
The dietary supplement is not a substitute for a balanced mixed diet and healthy lifestyle!
PRESENTATION: 250 g
OÉTI n. no.: 5532/2009
Vitami contents:

in 5 g

in 10 g

Reccommended intake

ages 10-14 5g

ages 14-18 5g

adults 10 g

B12:

0,5 micro g

1 micro g

25%

25%

100%

Folic acid:

118 micro g

236 micro g

78,6 %

59%

118%