Medical watercress (Nasturtium officinale)
The class of brassicaceae genus of dicots, including the cruciferous family. Aquatic plant, which grows along cool springs and streams  The medical watercress is a perennial plant, whose leaves are bright green even in the winter. It has long white flowers, pounces are yellow.

During the 1600s, Dr. William Shakespeare's son John Hall wrote first about the medical effects of watercress' effects on the human body. He observed that it decreases digestive problems, kidney problems, prevents the formation of kidney stones, and has excellent detoxifying and blood purifying and detoxifying properties. It strengthens resistance to catarrhal and various other infections. Its antibacterial effects are also well known.
It has antioxidant properties and contains vitamins  A, C, D and E, as well as calcium, copper and iron which are minerals that are required for proper human bodily functions.
There are 100 types of watercress of which many can be found in house-gardens.  The watercress herb is too valuable to omit from our daily diet. The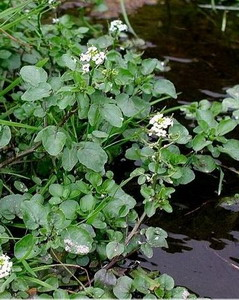 English have been consuming watercree for more than 100 years, its leaves and tender shoots are used in a variety of salads.
Source:
www.pruitt.hu